Three women arrive on Earth with no memory of who they are or where they came from. Their only contact is on a mobile phone where a male voice guides them.
They have simultaneous dreams about being on a spaceship. They are hatchlings, humans born as adults with artificial memories of an earlier life.
Their findings lead them through a time-space continuum on a voyage of discovery.
 School principal, Stacey Hayes follows the advice of private detective Doug McCann and flies from her home city of Wellington to Auckland airport on an early morning flight. Remaining unseen, she watches her husband's arrival on a later flight and receives an unpleasant surprise.
Her husband is greeted passionately by a pregnant woman. Jessica is the other Mrs Hayes. It was Jessica's mother Chelsea who hired Doug to investigate her son-in-law. He discovers that Brendon Hayes is a bigamist with two homes and wives living in the two New Zealand cities, 650 kilometres apart.
Until now Brendon Hayes has managed to keep his two lives and wives secret from each other. However, when the pair meet they, somewhat surprisingly, become friends as they, with Doug's help, delve into Brendon's past. They find the egotistical and manipulative man's whole life is based on deceit and fraud with his accountancy company Hayes and Hayes the centre of his activities.
 Stacey and Jessica cope with the unpleasant truths about their husband in different ways. Stacey recalls doubts about him over the years and decides to move on in her life while Jessica finds it more difficult to manage.
 When Jessica's baby is born, Brendon who does not know his bigamy has been exposed, decides to walk away from both marriages and marry his latest mistress, a young Filipino girl, Reyna Aquin. Doug's investigations discover this and he asks an acquaintance in the police force to intervene and stop another sham marriage from happening.
This proves to be Brendon's downfall. It is not Stacey or Jessica who plan this but more ruthless enemies gather to revenge his exposed past life. He is attacked with dire consequences that affects everyone.
 How does his dishonesty and possibly criminal behaviour led to Stacey and Jessica being placed in a dangerous situation? Can the two Mrs Hayes finally meld their lives and families to move forward and face their future?
Two families are linked when high school students, Jeff Sutton and Ava Knight meet. Through them, their parents, separated Chloe and widower Adrian meet. Earlier a violent David Sutton is stopped when Jeff finally thrashes his father and the problems begin.
---
We have revised Eagle's Claw Lake  for 2018. The new update is now online with our distributors.
Doctor Reid Tucker's intention to spend the summer at a remote cabin at Eagle's Claw Lake in northeast Washington State with only his dog, Cinders, never eventuates.
On the trip there, pilot Kate Meltz flies the amphibian to a commune at the other end of the lake. While waiting on board, Reid pulls a desperate and distressed teenage girl, Lorie Somerville, from the water. This begins a frightening chain of events as fanatical commune leader, Peter Littlejohn, tries to find Lorie and prevent her from leaving. Though Littlejohn doesn't find Lorie on the aircraft, he sabotages it so the trio are left stranded at Reid's cabin.
It soon becomes obvious that the place is more than just a remote religious commune. The girl is terrified of being caught and begs Reid to look for Jennifer and Sassy, two of her friends who have also escaped.
But why has Erika Somerville, Lorie's elder sister, returned to Eagle's Claw Lake and found savagely beaten in the commune's cabin cruiser?
---
When the Longships Came
In 865AD Vikings attack the female Bramingham Monastery in the Kingdom of Northumbria. The building is looted with everything of value taken by the pagans, Abbess Jane and senior nuns are slaughtered and the younger nuns abducted into slavery. Maiden Kendra, minding the monastery sheep on the top plateau during the attack survives. This is her story.
The Druid's Daughter
It is 320 AD and Hadrian's Wall separates Roman Britannia Inferior (now the northern counties of England) from the free lands to the north where the village of Darbarri is located. There, Jelena is asked by her father Druid Floyd to travel south of the wall into Roman territory to help the people in the small village of Bramfield. It is a dangerous area for the Celtic because Druids are not welcomed in Roman lands anymore even though they had helped villagers for centuries. 
Meztli - Sacrificial Maiden
The third in our Ancient Ancestors series is set in 1530 AD Inca times. Meztli is rescued from a sacrificial site before she dies of exposure. This is the story about her life afterwards and how her friends and herself fight for justice from the conquistadors and evil priests of the times. Will their pyramid of gold be discovered by their enemies?
Kyla's Fate
Our latest novel that is still being written  it  is  450 AD. The Saxons have invaded Britannia and the kingdoms to the south overrun.  Kyla finds that her fate has been predetermined for she is a princess in the kingdom of Gwent the last remaining member of the royal family. She must escape from the Saxons who want her assassinated. Will the monastery of Llandover become a sanctuary from where she can fight for the freedom of her peoples? 
Kyla spies on the incoming Saxon warriors about to attack Llandover Monastery where she had sort refuge.
---
KYLA'S FATE
The fourth novel in the Ancient Ancestors Series
In 450 AD there is no United Kingdom, the Romans have left Britannia a generation before and the land is ruled in dozens of waring pagan kingdoms. This leaves the way open for different invaders from across the sea. Saxons arrive and violently overran Glouvia Kingdom in the southwest where nurse Kyla O'Knife is helping survivors of a recent plague, wounded warriors and civilians in distress.
However, fate is about to deal Kyla a hand. Whether it was good or bad is still to be determined when Kyla is summoned to the dying king's bed and informed that she is his daughter by one of his wives. The entire royal family has been assassinated so after the king's death she becomes Crown Princess Kyla and ruler of Glouvia.
This is a pyrrhic position for the Saxons now rule the kingdom. They want her dead to discontinue the royal family line and she becomes a refugee. After rescuing enslaved women Kyla, who is helped by independent forest people, heads towards the hill country and sanctuary at a Christian monastery.
Her troubles are not over for Llandover Monastery had been hit by the plague and only one monk has survived. He is Brother Anthony who declares that the sacred building is for males only and women are not permitted.
How does Kyla persuade Brother Anthony to let the women and herself in? What problems are there with a clash of beliefs and personalities? And what of the land left behind?
Kyla is determined to help and sets about to do just that.
This is her story.
More information. Pick our outlet.
---
ASTRID'S COAST
Ross Richdale
When her mother dies after an accident, Astrid Stowell moves to the small New Zealand Coromandel Peninsular village of Hook Bay to live with her grandfather, Steve Barton. She has to cope with life in a new environment with old friends' help and betrayal, a new school to attend for her final high school year and an early encounter with the forces of nature.
Steve's love and guidance, as well as Astrid's ability as an artist, helps her through difficult times. New friends enter her life, old ones return and her talent is encouraged by the local school principal. Her life now has a future.
That is until the tsunami builds up in the Pacific Ocean and heads south… directly towards Hook Bay.
*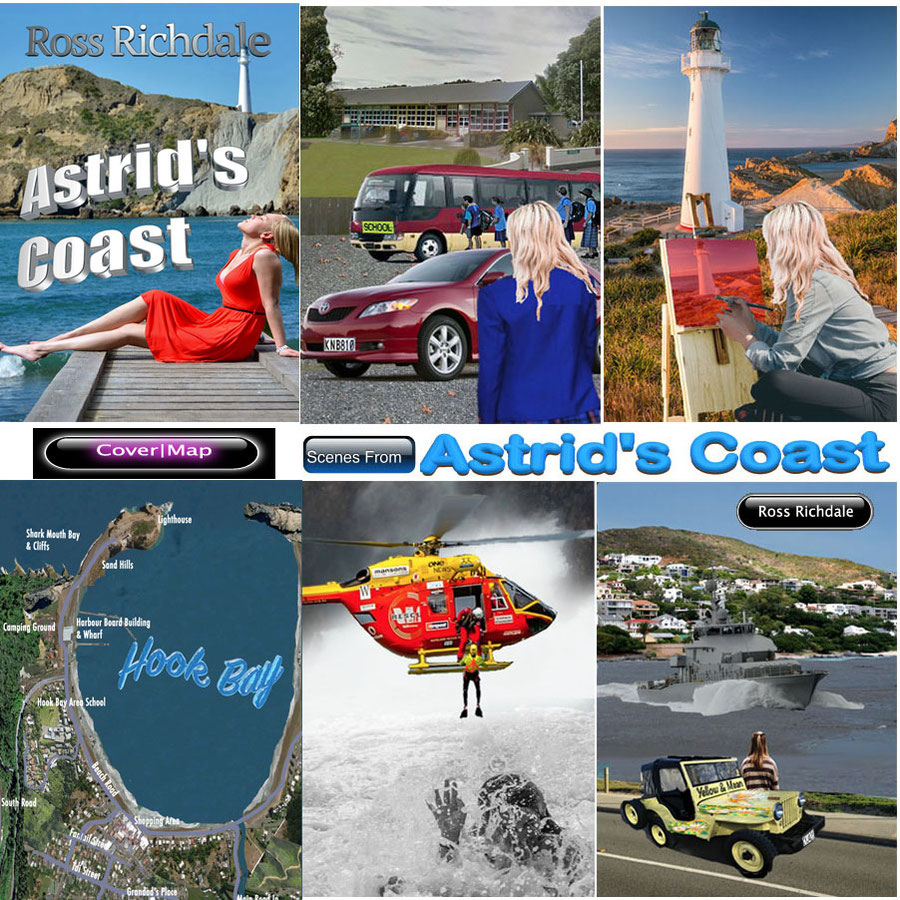 ---
When the remote settlement of East Ridge in the South Island of New Zealand is isolated during a snowstorm, Renee and Tyler take in three travellers. Without electricity or mobile phone contact and with all the roads around closed, the five are completely cut off from the world. There, they begin to bond and help one another with problems in their lives.
---
 Wisps of Cloud
After leaving a city school, Karla moves to become a principal of a remote country school where her partner has a farm. Tensions arise in the district with a marijuana plantation discovered near the farm and a local bikie gang being suspected as the growers. However, nothing is as it first seems, potential enemies become friends and the trusted, untrustworthy.
Wisps of Snow
Karla Spicer is called in to help as a Change Principal at Tuckett Area School in a remote New Zealand district. This school takes pupils from Year I to 13 but has a falling roll, an apathetic principal, Don Trow and a divided board of trustees. Karla finds that the school is in debt because Trow is faking accounts and is betting on a Russian casino. However, they want more than their money. More info or buy
Wisps of Wisdom
In this third novel about Karla Spicer and her teaching career, we find her in charge of a thousand student Joseph Ward Junior High School in Auckland, New Zealand's largest city. This is more than a story of Karla's career but covers her personal life with her husband Ryan and also life of the teachers and students at Joseph Ward Junior High. More info or buy
---
 Acid Air
Does fate bring Greg and Shontel together on a decommissioned Russian nuclear submarine with acid air on the surface of a future Earth? Aboard is Nedda, an advanced living-species who metamorphoses into a human with extra abilities. Also, who is Lilad, a human from a cave village with no children? Why is Nedda attacked and will evil forces stop them from finding the truth and returning home? More info or buy
Embrace the Fog
Travis Crichton and Jacey Roden's weekend orienteering contest in a vintage Mark 4 Jaguar car becomes a journey through a belt of fog and into a strange village called The Valley that is not shown on any map. The people there appear to be living in the 1950s, a time when the car was new. Jacey realises that this is more than random misfortune and that they are caught up in something more sinister. More info or buy
The Truth About Terra
Terra is a divided world with its history classified. After receiving and ancient script, Zorell and her companions set out and find a secret base containing a hovercraft left by their ancestors. With help from intelligent bees they set out on adventures and problems. Not one but two worlds are changed for ever by their discoveries and fortitude. But is it too late to save humanity? 
Terra Incognita
In this sequel to The Truth About Terra, Zorell, Evan and Anneke are pulled through to an unknown world in their hovercraft. Enter a world where the line between computers and humanity is blurred, electronic butterflies compete with intelligent bees and the way home to Terra seems to be all but impossible
---